A new response is needed to the growing cancer burden around the world that involves giving greater priority to prevention and early detection, says the Director of the International Agency for Research in Cancer (IARC).
Dr Christopher Wild said that despite improvements in cancer care, no country can afford "to treat its way out of the cancer problem."
He was delivering the Scottish Cancer Foundation's annual lecture at the Royal Society of Edinburgh which is supported by the Cruden Foundation.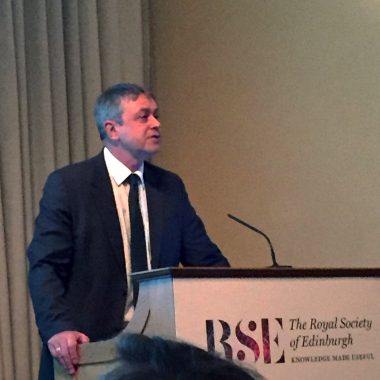 Dr Wild said predictions indicate that cancer cases around the world will more than double in the next 20 years due to increases in the number of older people in the population. This will rise from 14 million new cases a year at present to 30 million by 2035. Deaths will increase from 8 million to 18 million.
At the same time the cost of cancer drugs has risen four fold in the past few years alone. This is creating an economic burden for the wealthiest of countries while making treatment unaffordable in countries with the least developed health services.
He called for a more balanced and integrated approach between treatment, early detection and prevention. "Around half of all cancers could be prevented if we were to implement the knowledge we have today about the causes of cancer," he said.
Dr Wild identified tobacco and alcohol use, infections and physical inactivity as among the major risk factors. The European Code against Cancer which has been produced by the IARC provides 12 recommendations on how individuals can reduce their cancer risk.
Policy interventions also have an important role to play. Evidence has shown that increasing the price of cigarettes, for example, has a direct impact on reducing smoking rates. Dr Wild also described an intervention in the Gambia where a programme to immunise children against the Hepatitis B virus is showing positive signs of helping to reduce the incidence of liver cancer in the country.
He accepted that prevention is difficult. It may take many years before any positive impact is seen, obtaining funding is far from easy, and commercial interests, such as the activities of tobacco companies, can make it harder to achieve preventative goals. He called on cancer charities to give greater emphasis to the role of prevention and suggested that public funding through governments should be skewed more towards prevention than treatment.
Dr Wild said investment in new ways to treat cancer will always be important but prevention and early detection need attention as well. "The main message I want to get across is that prevention is possible and it works. It should be supported more."